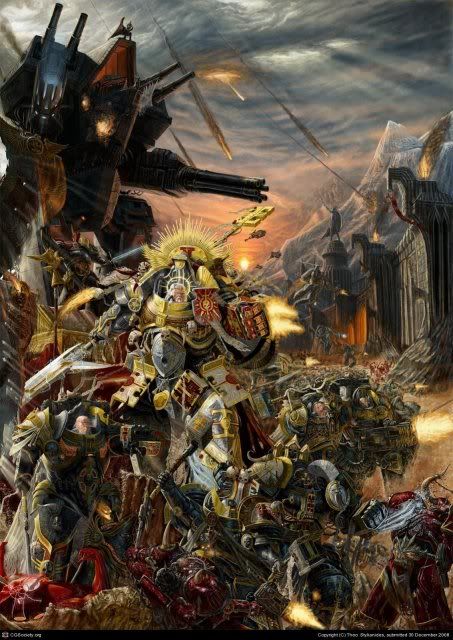 Ahoyhoy internets, DaveHowitzer here with another list variation for the new GKs, but this one I think I might well build on the cuff whilst I'm typing. I'm doing this to give an insight as to what I'm thinking for my 1500pt list, plus it gives me a visual aid in order to keep my thought process constructive and to the point, which can only be a good thing when building a list. I have a rough idea, so let's get down the business and get writing shall we!
First our Troops, I was considering MSU, utilising GKSS and Psybacks to gain fire supremacy in the midfield however, in my mind max MSU lists are a bit squishy
-does that go against the rest of the internets?-
and I'd prefer to get some meat in my list, so lets start with a maxed out Grey Knight Strike Squad with 2 Psycannons and a Rhino. This is going to be our advancing guard, moving opponents off of objectives and intercepting enemy infantry closing in on the GK midfield line, so we need to give them a little "umph". We add in a Master Crafted Hammer on the Justicar so we have more of a chance of popping open some sweet tastey transports at close range and psybolts to increase our chances of killing infantry at 24 inches. Sod it, lets have two of them for a solid advancing guard. So;
10xGKSS, 2xPsycannon, MC Hammer, Psybolts, Rhino -295 x2
So we have our core, let's build on that with a couple of small units. We can have a 5 man GKSS with a Psycannon and Psyback for 160 points which is nothing to sneer at, it also gives us more scoring units. However for 30 more points we can have my favourite unit in the book, Purifiers! Purifiers give us the option of more gunishment
(another psycannon in a small unit)
and provide us with a decent counter-assault unit, having the same amount of attacks in combat as our larger GKSS units and providing Cleansing Flame. So let's have another couple of these, which gives us the same heavy firepower plus the all important Psyback for 100 points a pop cheaper than our larger units;
5xPurifiers, 2xPsycannon, Psyback -190 x2
Ok so past incarnations have included Crowe and a Librarian, both of which make for good options, but since I'm mostly inclined to write power armour lists the Librarian is generally going to be left out in the open
(which I don't like)
and Crowe will always be hanging around backfield and not really contributing unless something flanks the Grey Knight line. So let's look at what gives us most bang for our buck but will work in a non-TDA list. We our 3 types of Inquisitor, all of which are cheap and have interesting options. Being a Daemonhunter at heart, I'm always gonna go for the Ordo Malleus Inquisitor, with Power Armour for some added protection, 3 skulls
-as Archnomad says, they are perhaps the best 3 points you could ever hope to spend-
which takes him to a mere 42 points and gives us access to cheap as chips Henchmen. However they are a "ghost" in the force org chart...which sucks. so let's make them not that -and make the internet hate me- by adding Coteaz! Now we have cheap scoring units that can take Psybacks. We'll get 2 cheap ass units to hold objectives in the backfield so the GKs don't have to;
Coteaz 100
5x Warrior Acolytes, Psyback 70 x2
Ok so finally we need some heavy hitting firepower to take down those pesky high armour targets and high toughness monsters. Is there anything better than a Psy-Rifle Dread? No. Let's have
(you guessed it)
2 of them.
Psyrifleman x2 270
Ok, let's review the list
Coteaz 100
5xPurifiers, 2xPsycannon, Psyback -190 x2
5x Warrior Acolytes, Psyback 70 x2
10xGKSS, 2xPsycannon, MC Hammer, Psybolts, Rhino -295 x2
Psyrifleman x2 270
This takes us to
1480
, so the question is what can we spend 20pts on. We could improve the combat ability of those Purifiers by adding in a hammer and halberds, but with the size of the squads at the points level I don't see the point in adding 1 hammer and 2 halberds. I mean come on, is 2 going to make a difference. One option is to add a flamer onto the acolyte units incase anything tastey in need of char grilling gets close. Another option would obviously be a meltagun, because I feel one of the main weakenesses of this list is it's lack of ability to crack high value armour, but on a BS3 model it's a bit like the proverbial "spray 'n' pray". A flamer is always going to hit, and hit a lot, so we'll run with that until playtesting proves me wrong.
So now we look like this;
Coteaz 100
5xPurifiers, 2xPsycannon, Psyback -190 x2
5x Warrior Acolytes, Flamer, Psyback 80 x2
10xGKSS, 2xPsycannon, MC Hammer, Psybolts, Rhino -295 x2
Psyrifleman x2 270
1500
Infantry; 41 (31 Power Armour)
Tanks; 8
I don't think it's too shabby at 1500pts. I still think there is an issue with lack of high power anti tank, with pretty much only the hammers with Hammerhand and lucky Rending shots from the psycannons being able to touch AV14, but in this transport rich environment we find ourselves in where AV 12 is our bread and butter, it should perform to a fairly high standard. Our options for expansion to 1750 > 2000 would I guess include bulking up those Purifier units with more members and combat weapons, turning them from a stationary platform into a mobile counter-assault force like the large GKSS squads. Obviously another Rifleman is on the cards for expansion, as well as changing the Psybacks on the Acolyte units into Lasbacks or adding some melta acolytes in Chimeras. Even adding an Inq with rad grenades into a combat purifier squad could be cool. At the upper points levels, maybe adding a Librarian in a unit of GKTs or Paladins could be an option, or adding Crowe and removing the GKSS units altogether so we get scoring-tastic options with Purifiers and Acolytes. It's all a pipe dream just now, we'll see what happens.
Thoughts?
Love, Dave